Name: Jacob Hutchingson
Gender: Male, obviously.
Age: 16
District: 4

Appearance: He is brown haired, blue/green eyed, tall, average weight and average height.

Personality: He knows little about outdoor life, which means, he may need help identifying berries which are good and bad and how to keep warm and how to catch land-prey. However his asset is catching prey in the water! He may not be an ideal Career - he's not very fast or strong - but they should be sure to keep him on their side because he is the brains of the group. He creates the strategies and plans. Despite this though, Jacob has his own plans. He is very secretive and doesn't take a lot of risks unless he is very passionate about something. His brains will only get him so far with the Careers, maybe near the end, when they think victory is in their grasp, they may even try to kill him then but he is clever enough to know this and has already devised his own strategy; he trusts no-one. Even though he appears to practically rely on the Careers at first to keep his sorry backside alive, he's actually very independent and only puts on a front. Even in interviews, he plays the mysterious/unknown angle. He doesn't reveal too much about himself and let the crowds make up their own minds about what sort of person he is. Despite being fairly good looking, he's not exactly a hit with sponsors. He may get the odd one or two sponsors but because of his cold, anti social personality, not many people actually like him, they just pretend to. Yet, again he is aware of this.

Although this is his personality normally, if one of the few people he loves is hurt, he can fly into a rage and kill almost anything. On the surface, he's a very secretive, introverted person but beneath the surface is a very firey, angry character that wants revenge and would do anything to achieve it.

Skills: On top of this, he has good handi-coordination and can swim fairly well, as most people from the fishing district can.

He is quite the handy man and can come accustomed to almost any weapon that he gets his hands on. He's quite a quick learner and adapts to change well, even under pressure!

Back Story: His sister, Poppy, was the first one to die at the age of 12 in last year's Hunger Games and now he's been reaped, he seeks revenge on the Capitol. But secretly. They can't know! Nothing is on his mind apart from his agenda now. Even if the sexiest girl in the world was placed before him, he wouldn't be drawn in. More is on his mind than the way a girl looks. Many are convinced that he's asexual (asexual means he doesn't like boys OR girls in that way) but, in truth, it's just that his heart is extremely icy and it'd take one hell of a strong love to thaw it out.
_________________
Glass cage so I can't pretend,
You hide beneath the physical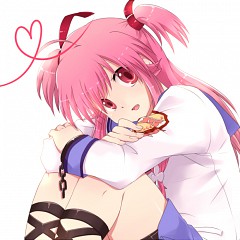 I see it coming but I can't defend,
You cut so deep, my belief is gone.