Name: Layla Nataka (First name is an alias - her real name is six letters but it gets revealed later on, or if you don't want it to be like that, I could give you it now, depends)
Appearance:
Gender: Female
Species: Troll
Blood Color: Blue (Higher than Terezi but not as high as Vriska or Equius)
Age: 6 Solar Sweeps
Symbol: Question Mark
Quirk: Doesn't really have one.
Handle: steampunkLibrarian
Lusus: Large and snake-like, looks very threatening but is as harmess as a kitten. Unless you harm Layla in front of it, then you're screwed but it isn't really threatening otherwise.
Personality: Layla is quite a mysterious character and not many could actually get close to her. She is very careful and intelligent and knows exactly how much to reveal and how much not to. She hardly ever lies but when she does, she is good at it. One of Layla's main traits is that she isn't one that wants to 'fit in' to troll culture. She doesn't seem all too proud of being of the troll race and even though she is of quite a high blood, one of her greatest wishes is to be human, to live the human life. She even chooses to go for a more human name because she hates her real one.
She often lives isolated – without friends – because all of the other trolls don't assossiate themselves with her, as if she is taboo because of what she believes. But her iron will and strong personality is enough to help her push and do anything to achieve her dream!
Flaws: She just isn't very liked. She can come across as a 'know-it-all' sometimes this annoys people because it makes them feel as if she is a snob. She finds it hard to open up to people because she is insecure and will not trust others easily; she is usually isolated and lives alone apart from her lusus. Nobody lives with her, she is persecuted, she hides her pain with what you could call a 'snappy' attitude with people she meets as a way to sort of drive them away to 'protect' herself from opening up. As for physical flaws, she wears huge glasses almost the size of her face and is considered quite nerd for it.
_________________
Glass cage so I can't pretend,
You hide beneath the physical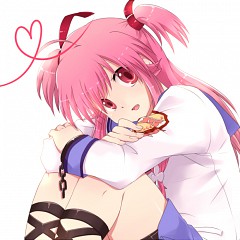 I see it coming but I can't defend,
You cut so deep, my belief is gone.