Name: Raja Sedula
Appearance:
Pre-Scratch: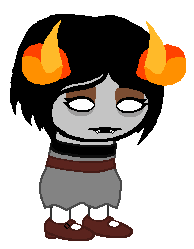 Ancestor: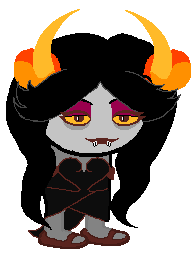 Gender: Female
Species: Troll
Blood Color: Dark Brown
Age: 8 Beforus Sweeps
Symbol: Gypsy
Quirk: Swaps the letter 'S' with '5' and uses a dash before actions, two for emphasis.
Ex. 5o where /exactly/ does that /leave u5
Handle: maskedMonarch
Strife Specibus: SashKind
Sylladex: Tank
Lusus: Large naga like serpent wrapped around the inside of her hive in a protective manner
Details: Preawakened Prospit Dreamer, Sylph of Life, Land of Fable and Void.
Personality: Raja; charming, graceful and intelligent, when the mood strikes. Most of the time she is furious, vulgar and mad at the world for the poor hand she's been dealt. Choosing to pull herself away from others and focus mostly on herself and the emotional train-wreck her life has become. During her desired isolation, she finally found true tranquility and her purpose in life, to rule.
Now, graced with the title Dame, Raja Soulblur Sedula longed to spread her new found wisdom and clarity but, unable to get her ideas across to the world she wrote her teachings in secret. Publishing with the pen name,
Blue Blooded King
, she was able to evoke a large rebellion. Her ability to control her fellow lowbloods did help along the way, but not in the bitter end. She was founded out and slaughtered for her ideals.
But, when this was scratched out entirely, Raja continued to explode getting to the point where she was ready to lash out at anyone and everyone. The anger quickly waned to depression, once she started remembering her forgotten past and the fate of her own dancestor. Now she wanders bitterly from dream bubble to dream bubble, sulking all the way.