Angel_the_Claymore
Tiny Tina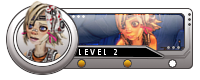 PokéPartner

:



Posts

: 791


Reputation

: 11


Angel's Updates 2 <3



Angel the Claymore

I'm back guys! Im not dead xD Yes, Im going to make an effort to be online more often now. So here an update of my fanfictions.

******Fanfictons*********

Safe Today - Oneshot

Fandom: Death Note

Pairing: Light x Misa (Well, it's more of an unrequited love fic.)

Summary: Misa is constantly on edge. She knows that Light could kill her any second, but she tries to do his will anyway. She loves him and she only wishes he would love her back. She often tries to convince herself that he does but she knows the way he really is. She's not stupid but she must pretend to be otherwise, would Light really have any need of her? She must pose happy and cheerful for the cameras because what use would she be if she showed how she truely felt inside? But with the pressure on her rising and her feelings becoming stronger can she really hold this act up anymore?

Status: Not Started.


Three's a Crowd - (I can't decide whether to make this a oneshot or not)

Fandom: Death Note

Pairing: Rem x Misa (Another unrequited love fic. Kinda leading on from the first one.)

Summary: Rem always felt a deep love for Misa Amane however, Misa's new relationship with Light has changed all that. Misa hardly notices him when Light is around and it often feels like he's just there, walking in Light's shadow. He thinks it's so unfair but what can he do? Misa prefers a bad boy.

Status: Not Started




*******Original Works*******

Saving Grace


Summary: Grace is dead. She wanders Heaven as a spirit where she's looked upon lowly by the seemingly superior creatues known as angels. Things take a turn for the worst when she is told to save young Adella McNaughton from the serious consquences of her own actions. But with the memory of her ex fresh in her mind and sixteen year old Adella's new boyfriend, there may be more parallels than Grace first suspected.


Challenge: How to be a guardian angel


Status: In Progress again

Chapters: 7/16



Astralpha

Summary: What if I told you that a game could be deadly? A virtual reaity one to be exact. Meet Sky and her friends as a happy trip to see the most popular horror game ever goes horribly wrong and they embark on a terrifying journey into the horrors of a game named only as Astralpha. The rules are simple: Survive.

Thousands of players. Fifty per session. Only one victor.

Could Sky be that one in few thousand? Or will she join the rest and be deleted?

Status: Discontiued. 

_________________

Glass cage so I can't pretend,

You hide beneath the physical

            

                                                                                                                                                                    I see it coming but I can't defend,

You cut so deep, my belief is gone.