pitapan
TK Baha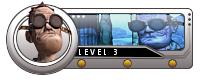 Posts

: 136


Reputation

: 24


Location

: Suffering w/ otome


One of those occasional updates



It's time for one of these, I suppose. Let's see... I'm back full fledge into UtaPri, though that's not that surprising, since I have the games and recently got the first season on Bluray. I helped Dad sell more, and ended up getting paid in DS games by Dad's friend because I watched the booth we shared with him. 

Those new DS games brings my DS collection count to 280+. 

I'm in a Creative Writing class at school, and this'll make it be my second preparing for publication project, since I have a comic book coming out soon. 

In other news, I've been letting my sister name my Persona protagonists for my playthroughs (actually, just my SMT protags in general.) and it's been ridiculous. Maybe I should stop letting her, but playing Persona 2 and seeing "Toasty-senpai" come up on the screen never gets old. 

I'm looking forward to participating in the Valentine Event~!