-X- Basic Information -X-

Name
Cailleach

Alias/Nickname
Patches, The Veil

Race
Mutt

Sexuality
Panromantic

Age

Twenty-Two

Occupation

Midwife, Matron, Handmaid, Mechanic

Affiliation

The Citadel, Immortan Joe

-X- Appearance Information –X-

Hair Color and Style
Patches has dark brown hair usually knotted at the top of her head and exposing the shaved underside from ear to ear. The front is shaved back and is just long enough to run flat along her hairline. 

Eyes
Her eyes are a honeyed brown and heavily lidded.

Skin Tone and Complexion
Patches has an olive skin tone and a blotchy complexion. Due to lack of proper nourishment as a child her skin is littered in 'patches' of lighter blotches along her neck, back, shoulders and chest.

Height, Weight, and Figure
Patches stands at five foot four and weighs around 130, her legs are muscular, arms toned and body lean.

Clothing Style
Patches wears a hooded wrapped shirt made of spare linen, it covers her front completely. If her hood is up her upper back is exposed otherwise it is covered by the hood. She wears knee length shorts under black cargo pants that are held in place by three belts. The ends of the pants are then tucked into two different pairs of boots when she is working or rolled up and left bare foot when not.

Scars, Tattoos, and Piercings
Patches has a variety of scars running along her back, as well as one large scar that trails from her left shoulder blade to her right hip. She bares the mark of Immortan Joe on her upper back and the mark of her old trip on her hip. She dons black war paint covering both eyes in a horizontal stripe.
Her upper body is covered in splotches from a vitamin deficiency as a child.

-X- Personality Information –X-

Personality
Patches, in her youth, was a woman who cared more about the safety of others than she did herself. She'd be more prone to running into trouble than away if it could ensure another's safety. Because of this, she had a slight complex, thinking the weight of the world was on her shoulders and any missed opportunity to help is utterly her own fault.

However, this side of her is tough to expose after what she experienced out in the wasteland. Paranoia, anxieties and other flare-ups haunt her. Now, she is concerned with self-preservation above all, and will gladly fight tooth and nail if she has to. Some may call her crude and downright vulgar but that is how she's survived so long. She puts up a veil of animosity and venom to keep the world at bay.

Given the opportunity, she would gladly help for gas or water or for any children and families she may stumble upon. The wastes haven't made her completely heartless and crude, they just covered it up a bit.

Habits
Patches tend to play with her hands or crack her knuckles whenever she becomes bored. She also picks and prods at her own skin, often times covering her fingers in clay just to have something to peel off when it dries.

Likes
Brawling, for one, just to ensure herself that she can still fight if needs be. Tinkering about cars and making improvements when she can. She also enjoys building things from spare parts; none are functional but still pretty to look at.
Patches has a soft spot for children, she enjoys telling them stories of what life was like way back before the war. Before everything that happened.

Dislikes
Where she stands in the grand scheme of things, she was raised thinking she was so much more. People she holds in high regards being disappointed in her and being thought of as nothing.

Being as overworked as she is, spending far too much time in War Boy territory and wearing boots. Frankly, she'd much rather be barefooted all the time.

Shortcomings
Patches has an attitude problem that has gotten her into far too many scrapes that she wasn't ready for. Her bravado and charm is outmatched only by her fits and flare-ups of severe paranoia and anxiety.

-X- Relationship Information –X-
Friends
Imperator Furiousa, The Wives (Specifically The Dag and Toast the Knowing) Nux

Enemies
Buzzards

Love Interest
Slit

-X- Biographical Information –X-

History
Patches was born under the name Cailleach, an ancient goddess of diseases and plague. Her birth tribe believed that she resides in the afterworld realm where she receives the dead, by naming the first-born daughter of their leader after her, they hoped Cailleach would spar them from other tribe's malice. She did not. War raged on between her birth tribe and the Buzzards, eventually resulting in a mass exodus of the tribe leading them to become nomadic.

Patches can't remember a time where her tribe was never not nomadic and was raised on the caravan. It soon became apparent that the constant moving was weakening the tribe but there was little done besides raising the number of women to be trained as priestesses and midwives. Patches took training under the tribes Matron, Vale, where she learned that the opposite of war is not peace but creation. Throughout the years of wandering, she opened her mind's eye to the prospect that the world could be saved and returned to the world Vale spoke of with opened arms and an iron will to create.

Despite her overzealous desire to create and add to the tribe, Patches soon found that her womb could not carry any children. She became morose and depressed, lashing out at any and all who tried to console her. Vale was disappointed in her lack of grace, as a priestess and next Matron it was completely unacceptable. Her mentor's words hit her harder than anything else did. Later that night, when the caravan rested, Patches took off into the night.

She felt herself useless to the tribe and a burden on the others, but the wastes proved more difficult alone than she ever imagined. Moreover, like all who enter alone, it ate her alive. The time spent alone is a blur to her, different moments play back faster and faster in her mind's eye but she ignores them. She focuses on her new goal of survival; the world could rot for all she cared.

Patches soon crossed paths with the Bullet Boys of the Bullet Garden who had conflicted with the Immortan and found herself ushered to the Immortan Joe as a means of apology. She was looked over, a possible wife to add to his growing collection, but once her infertility was exposed, he saw her as little use. She fought tooth and nail to ensure sanctuary here; she explained her training and swore to be of use. Now she finds herself mechanic and matron to every war pup whelp that comes along. 
_________________
This Kooky Dame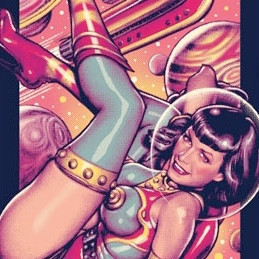 Literally A Single Opossum In A People Suit