||
Basic Data
||
|| Name ||
Ophelia
|| Date of Birth ||
February 27
|| Age ||
22
|| Region of Birth ||
Kalos
|| Sexual Orientation ||
Straight
|| Ability ||
She is a particular good hacker and a good informant.
||
Personal Data
||
|| Personality ||
Ophelia is generally a pretty quiet person. She's an observer and she likes it that way. She doesn't get involved with many due to fear and repercussions that might come to any loved ones after the things she's done. She tends to be self sacrificing in this vein, putting others far before herself.
While still quiet, Ophelia is confident in what she does and what she knows. She can end up being a little hot headed because of this. If things don't work out the way that they should or as she had predicted, this determined attitude will quickly falter.
|| Backstory ||
Growing up in Kalos, Ophelia's greatest wish was to do pokémon good and protect them. Like many others within the region, she had heard the legends of the Ultimate Weapon and the many pokémon to power it. While most told this tale as a story of caution, it had inspired Ophelia to dedicate her life to helping snuff out those who would use their pokémon for evil.
Ophelia, doing background research and flushing out people through black mail and other means, has taken up something of a vigilante role. While her favorite methods were typically through that of computers, she's used her own pokémon to spy and chase out those who use their pokémon for ill causes.
At a time, she once aided in Team Flare's downfall and her worst fears were almost realized when the Ulimate Weapon had awoken again. Inevitably, it had failed to cause the destruction that it once was meant to and Ophelia was able to leave Kalos without worry.
Currently, she has been chasing down a group of people who have been modifying pokémon, twisting them into dark beings known as 'Shadow Pokémon'.
She has hacked, stolen, and interrogated several people in attempts to find the group responsible and return home with this information in hand, hoping to put a stop to it. However, in this particular job, she was caught by members of this group and nearly killed. Instead of finishing her and her pokémon off, they proposed a game.
Ophelia was to keep running and they were to chase her down like a rat.
It was better than nothing, she had figured, and Ophelia had agreed to those terms in the hopes of attempting to find a way to turn the situation around. Ophelia ran, doing what she needed to in attempts to keep herself and her pokémon safe. However, she just barely made it to Hoenn where she was shot down, crash landing within Sootopolis City where she and her pokémon fell unconscious.
|| Occupation ||
Vigilante
|| Relationship Status ||
Single
|| Strengths ||
She is incredibly empathetic to others, leading her into doing her best with aiding those around her. Ophelia will do anything to make sure no one else suffers as long as it's in her power to do so. Her loyalty knows no bounds and if she is someone particularly close to another, she will do anything to keep them safe and happy.
|| Weaknesses ||
Ophelia can be incredibly stubborn. She comes off calm and collected but if she believes herself to be right, it's often difficult to move her from that line of thought. This also comes with the fact that the only creatures she often works with are the pokémon she knows well. Working with people, especially those with opposing views, can be incredibly difficult for her.
Her intense need to protect can be used against her, sending her spiraling if push comes to shove. Ophelia is a bleeding heart and doesn't want to see anyone suffer if she can help it. She'd put her life on the line to help someone else. However, if she fails in this, she quickly harbors regret that can crush her.
Ophelia also has a particularly big temper when she's backed into a corner. While this hasn't happened often, it is in that point in time when she might lose her ability to think straight and outright hurt someone else who might be trying to hurt her.
|| Fears ||
What she fears most is losing her loved ones and having a lack of control over a situation. Both fall into the same vein, having no control over death at all. Ophelia would rather see herself perish than anyone else.
She also has an irrational fear of drowning. It does not cripple her in swimming or flying over a body of water but it's the last place she'd want to end up stranded if she can help it.
|| Relationships |||| Parents |||| Siblings |||| Love Interest ||
Wallace
|| Friends |||| Rivals ||
||
Appearance
||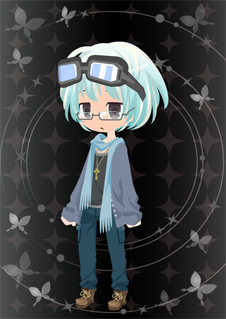 ||
Team Information
||
|| Main Team ||
To be added as my Nuzlocke challenge goes on.