Snowball King
Seasonal Secret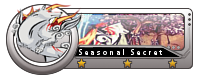 DigiPartner

:
PokéPartner

:



Posts

: 374


Reputation

: 28


Location

: NorCal


Subject: [Pacific Rim] Cheryl ZebLander [OC] Wed Jul 20, 2016 11:33 pm

---

I dug up this old OC from 2014, lmao. Hoping to get my X-Men and Avengers/Cap America OC up soon.

---

Name

: Cheryl  ZebLander

Age

: Mid-twenties

Nickname

: Cher

Gender

: Female

Height

: 5"8 ½

Appearance

:

To be added…Race/Nationality

: Caucasian-American

Occupation

: Jaeger Pilot trainee

Hobbies

: Studying Kaiju, martial arts, yoga, Chinese checkers, studying Jaeger-Tech

Bio

: Cheryl had a normal childhood. She was the only child, however, until the Kaiju attacked for the first time when she was a teenager. Her mother was killed, leaving her father to care for her. Cheryl's father was rather shocked that she wanted to work to combat the Kaiju when she got older, but he understood her decision, helping her to make it into the Jaeger program.

Personality

: Cheryl is easy going, though when she's serious, she can think ahead in combat. Cheryl tends to score high in the combat simulator, though she's never tried her hand in a Jaeger. She can be feisty, yet friendly, but her weakness is her friends, and those she cares about. Cheryl believes in strong relationships, and wants to be drift-compatible with anyone she's working with. When it comes to relationships; Cheryl's never really dated all that much.