(May be changed as I figure more things about the series out, since I'm still fairly new to DBZ. That being said, I'm not sure if I'd be any good to RP with but whatever. @.@)
~~~
----------- • Basic Information • ----------- 
Name
Spica
Sexuality
Straight
Age
18 Years Old
Species
Humanoid
Abilities
Can manipulate her Ki to her eyes to see other's Ki to detect them from certain distances away. 
----------- • Appearance Information • ----------- 
Hair Color and Style
Spica has light grey, very short hair that spikes outward in the back. Her bangs are parted above her right eye, the majority being swept to the left of her face.
Eyes
Her eyes are a bit large in size, and are of a hazel color.
Skin Tone and Complexion
She's normally seen with a fair skin tone, though if she spends enough time outside she gets a bit darker. This normally only happens in the middle of summer, however. 
Height, Weight, and Figure
Taking after her father, Spica is fairly short, only reaching 5'2" in height. Her body is of normal proportion to her height, as is her weight for the most part, but her ears are long and pointed like an elf.
Scent
After working in her clay class for some time in school, the scent of clay has sort of stuck to her.   
Clothing Style
Spica likes to keep her clothing simple, but still warm as she gets cold a bit easily. She tends to wear blacks, greys, and blues as well as simple accessories that won't get in her way much. The one she wears most is a brown pendant ocarina, which acts as somewhat of a security reassurance despite its uselessness to defend herself with.
Scars, Tattoos, and Piercings
She has a small scar over her right eyebrow from an incident when she was little, but it's not very noticeable. She also has her ears pierced with small gold earrings.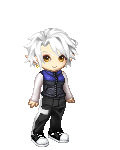 (Will be drawn later)
----------- • Personality Information • -----------
Personality
A fairly timid woman, Spica tends to stay silent on most occasions and watch her surroundings unless someone speaks to her. She's quick to panic, but she thinks it only really shows when the situation is bad. She's quite analytic, often spending her free time thinking about things some normally wouldn't, as she has a fairly broad imagination. 
While she's a bit distrusting at first, she actually proves to be fairly kind if someone can get her to trust them. While she's still easy to scare, she seems less timid once she trusts someone, seemingly more cheerful and curious as well. She wants to help whomever she can, and will as long she's shown fair respect.
She does tend to hold grudges, but normally it is rare and often for good reasons, and doesn't really tell anyone about that. Spica can't stand arguments and fighting, being a bit of a pacifist, and will try to flee the situation if it's possible.
Likes
Drawing, quiet, reading myths and folklore, being in her art class, seeing others happy with something she's done, being of help to others, stargazing
Dislikes
Unneeded attention and stress, anger/arguments, getting lost, fighting, spicy food, unfamiliar environments
Talents
Fairly good at masking emotion to a certain degree. Can think very rationally without her emotions getting in the way, provided that the area around her is calm. Good at hiding and observing.
Shortcomings
Spica is very easy to intimidate or frighten, and tends to freeze up when there is a battle. She isn't very fast or agile. Tends to go off in her own little world when bored. 
----------- • Relationship Information • -----------
Friends
Unless treated otherwise, Spica prefers considering anyone a friend, despite it being a likely flaw for her. Whether this is successful is up for debate.
Enemies
Spica tries at all costs to avoid making enemies. 
Love Interest
Jeice
----------- • Biographical Information • -----------
History
Spica grew up under a family on the lower half of the lower class, so she's grown used to not being spoiled or anything like the sort. Her family having separated recently, she's been trying to help out however she can manage it along with her classwork.
Between the actions of her fellow classmates and receiving some of the worst treatment from her mother's mentally abusive husband, she's grown to hide most of her negative emotions.