Name: Gwen Young
Gender: Female
Age: 12

Appearance: She has long, blonde hair of which she wears in one long, french plait tied with a white ribbon. She has hazel eyes and is rather short for her age. She's relatively skinny too. She usually wears a blue summer dress which comes to her knees and black pimpsole/sneaker shoes.

Personality: Despite her height she is very confident and optimistic. She does her best not to let size be a disadvantage for her and it often makes her enemies underestimate her. She is very adventurous and will always be trying to discover and explore, not being afraid to step out of her comfort zone. She is kind, outgoing and willing to take on any challenge. This could actually be a flaw for her because sometimes she will take on challenges knowing that, realistically, it's almost impossible for her to succeed and sometimes she may even be putting herself in danger!


However, most of the time, she doesn't take battling too seriously. It's just a bit of fun to her. She only tends to 'play to win' if she is challenged by someone but if not, then win or lose, she has fun.


Skills: She is quite skilled with getting pokemon to trust her and do what she says. Most say that it's just her natural gift however ghost and psychic types are an exception to this rule. She finds them very hard to control and they often run away.

Mostly, she goes for the electric types simply because she thinks they're cool but she does give some other pokemon types a chance too, she likes adorable pokemon too. Something she is not very skilled in, is battling using ghost or psychic types because, as said before, she's not to skilled in controlling them.

Her team consists of her starter, Chikorita: Female, Modest nature

Pichu: Male, Naughty nature

Jolteon: Female, Bold nature

Electabuzz: Male, Relaxed nature

Ampharos: Male, Timid nautre.

Poliwag: Male, Naive nature.

Chikorita usually spends most of it's time out of the pokeball.


Back Story: Gwen has a rather normal backstory. Nothing unusual or tragic really. Just a normal girl growing up with a caring mum, a hardworking father and a baby sister. Her parents did give her a special pokeball though, one with a sticker with her initials "GY" on it in a heart shape. She's had it since she's started her journey, it has no special abilities as far as she knows however it means a lot and is rather special to her because it reminds her of her parents whenever she gets homesick. It is the pokeball she keeps for Chikorita even though she hardly uses it.
_________________
Glass cage so I can't pretend,
You hide beneath the physical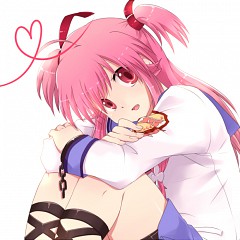 I see it coming but I can't defend,
You cut so deep, my belief is gone.