Name: Bellus Sedula
Appearance: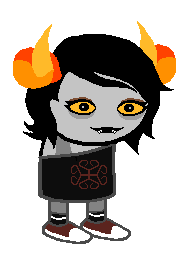 Gender: Female
Species: Troll
Blood Color: Dark Brown
Age: 6 Solar Sweeps
Symbol: Gypsy
Quirk: Swaps 'I' for !, doubles 'S' at random, ends sentences with ~
Handle: cannedCharisma
Strife Specibus: RopeKind
Sylladex: Tank
Lusus: Large naga like serpent wrapped around the inside of her hive in a protective manner
Details: Preawakened Prospit Dreamer, Rogue of Life, Land of Myth and Abyss.
Personality: That little boisterous mother grubber who can chat someone's ear off. Bellus is very curious and is just ecstatic to meet new people. Her natural charismatic nature makes people feel at ease around her. She is enveloped in the culture and counter-culture so hard that she know what's what from all over the place. Her wit only adds to her magnetic charm. But due to a missing fang she slurs and mispronounces words, it doesn't help that she has a large vocabulary, and she doesn't like getting called out for it. Which happens a lot. She blushes and becomes furious and vainly tries to defend herself.
Flaws: Though below her social charmer façade, she's that little insecure brown blood that can get extremely jealous over nothing. Which leads to her manipulating those around her. Normally she bottles up her gloom, anger and jealous which causes her to explode once she's reached breaking point. She is very self conscious of her missing fang and the way she slurs her sentences. She hates that she blushes furiously after words too.
_________________
This Kooky Dame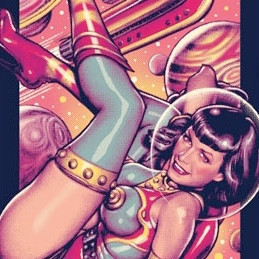 Literally A Single Opossum In A People Suit