Hello people and welcome to my first ever blog! Woot woot! :)
Basically, on here are ideas I'm having for fanfictions or original works but also sometimes to say what I'm working on and how far in I am. What I'm going to continue, or what's being scrapped. Blah blah blah. That sort of stuff.
******Fanfictons*********
Safe Today - OneshotFandom:
Death Note
Pairing:
Light x Misa
Status:
Not Started.
Three's a Crowd - (I can't decide whether to make this a oneshot or not)Fandom:
Death Note
Pairing:
Rem x Misa
Status:
Not Started
*******Original Works*******
Saving GraceSummary:
Grace is dead. She wanders heaven as a spirit where she's looked upon lowly by the seemingly superior creatues known as angels. Things take a turn for the worst when she is told to save young Adella McNaughton from the serious consquences of her own actions. But with the memory of her ex fresh in her mind and sixteen year old Adella's new boyfriend, there may be more parallels than Grace first suspected.
Challenge:
How to be a guardian angel
Status:
In Progress
Chapters:
6/16
_________________
Glass cage so I can't pretend,
You hide beneath the physical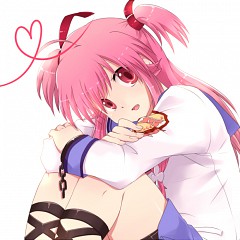 I see it coming but I can't defend,
You cut so deep, my belief is gone.